Winter holidays at JYM
From late November through December, the Glühwein, Lebkuchen, and lights of German holiday markets help to bolster JYMers and Bavarians alike against winter cold and the ever-shorter days in Central Europe. The Weihnachtsmarkt originated in German territories and takes place during the four weeks before Christmas, known as Advent in the Christian tradition. Due to Covid, German Christmas markets were shut down in 2020. JYMers, forced to return to the U.S. in March of the same year, did not return to Munich until the summer of 2021. The past two winter holiday seasons at JYM have therefore been particularly special and have also given us pause to think about how past JYMers in spent the break between mid-December and mid-January.
In December of 2021, after a fall of indoor masking and restricted social activities, JYMers of the class of 2021-22 were looking forward to the Munich markets, whose booths were being erected on Marienplatz and Wittelsbacher Platz and at other Munich sites during the month of November. Everyone was deeply disappointed when they were canceled at the end of November due to high Covid infection numbers in Bavaria. JYMers refused to let Covid get the best of them, however. Agreeing to follow all testing requirements, they organized a holiday party at our institute, complete with a potluck meal, Glühwein, and a gift exchange, offering impressive examples of resilience among an already resilient bunch.
This year, the holiday markets were finally back in Bavaria. JYMers watched them being set up and then got to visit them, both in and outside of Munich. Emily (American University) visited the market at the Schloss Kaltenberg in the village of Geltendorf and the Christkindlmarkt in Regensburg.
Katie (American University) and Quinn (Grand Valley State University) traveled to Tegernsee, which has its own market, and from where one can take a shuttle trip around the lake to the markets in Bad Wiessee and Rottach-Egern.
Dressing up for the season, River (Georgetown University), Griffin (Southern Illinois University Edwardsville) and Trevor (Wayne State University) donned woolen coats and scarves and travelled to the Stuttgarter Weihnachtsmarkt.
Here in Munich, the many options included the Pink Christmas Market in the Glockenbach Viertel and the Mondscheinexpress on the premises of the Bahnwärter Thiel nightclub.
We also resumed the tradition of decorating the institute in early December and then having a holiday party—this time around without requiring tests or masking. Before the party, students and instructors attended a nativity play at the Münchner Volkstheater. It was performed by children from Oberammergau entirely in Bavarian dialect and included the appearance of a devil and three witches along with many Bavarian wanderers following the Star of David. The director, Christian Stückl, may be the only director in Germany dedicated to preserving local traditions (he has been director of the Oberammergauer Passionsspiele since 1987) while at the same time directing cutting-edge contemporary theater (Die Dreigroschenoper, Mein Kampf, Über Menschen).
After the play, we enjoyed a buffet and the lighting of our Christmas tree at the JYM institute. JYMers then got to know the German tradition of "Wichteln," which is something of a mash-up of Secret Santa, White Elephant Gifts, and the game "Sorry".
Thinking about the resilience of the class of 2021-22, and about the giddiness of the class of 2022-23 at being able to visit so many magical markets, we asked some of our alumni what adventures they had experienced during the December break while they were in Munich. Here's what we learned:
Mary-Margaret Goggin (1960-61) wrote, "I spent Christmas in Calw an der Nagold im Schwarzwald with my AFS summer 1957 family. Wonderful! Finally, I could speak German!"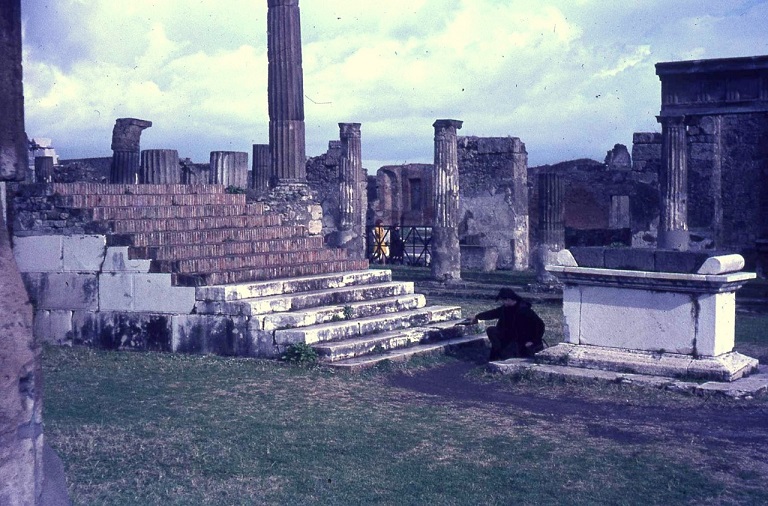 Rob Houck and Ginny Richy (1967-68) traveled to Pompeii, Italy, and Paestum Greece. Rob recalls, "a man was selling cheap, poor quality red wine from a BIG barrel in an empty lot behind a wooden fence. We inquired and found that it was wine (sort of), but we needed to bring our own bottle. So, we went to a nearby store and got a bottle. The vintner filled up the bottle using a plastic hose as a siphon. We made our way to the ruins, tried the wine and, after a few pulls, gave up. The rest accounts for our great success later in life – having pleased the gods with our libation, whose taste for wine was less discriminating than ours. Ginny did the pouring and I watched for any guard." Ginny adds to the story: "The bottle of wine went with a picnic in the marketplace in Pompeii, where we sat on a stage-like covered structure with our bread and cheese. It was drizzling rain and after we ate, I poured the libation in the temple of Apollo—and the rain stopped. A full rainbow appeared above the ruins, clearly a sign that the libation was appreciated. The "Rob-among-the-ruins" picture is Paestum, where we went after Pompeii. Many memories of this trip!"
Ed Vos (1969-70) also headed towards the sun and warmth: "Met a JYM Fräulein (in my German grammar class) who had friends in Rome. So, we hitchhiked to Rome... but got stuck (police made us stop hitching) in the Tyrolian Alps so had to take a train the rest of the way. The return trip was amazing: got a lift just outside of Rome to Salzburg. Rome was amazing and romantic...."
Like many JYMers over the decades, Margie Gibson (1971-72) had a visit from home: "My Dad came over for Christmas in 1971. I was at the airport waiting for him, but his flight had been redirected to Frankfurt because of bad weather. Unfortunately, that was not announced at the airport. After waiting about two hours, I went back to [Studentenstadt] Freimann, worried sick about what had happened to him. In Frankfurt, Dad got on a US military transport train instead of the Deutsche Bahn and ended up at a US supply depot. He finally got the right train and thanks to some very nice Germans, figured out where and when to transfer to get to Munich. He showed up at Freimann at 5 am, totally exhausted. I made breakfast and then took him to a B&B near the Uni. After a good sleep, things got better. We went south to Ettal and Linderhof, then to Mittenwald, where we spent the night at Gasthof Stern (still there). The next day we went on to Salzburg. On Christmas Eve we arrived in Oberndorf, where Silent Night was first performed. All restaurants were closed, but the owner of the hotel where we stayed prepared a Brotzeit for us. We went to midnight Mass (where, of course, Silent Night was sung). On Christmas Day we headed west through the mountains to the Black Forest and on to France. We visited a few places where Dad had been in WWII, as well as Riems and several other towns. On New Year's Eve, we arrived in Paris, another war memory for Dad. It was truly a once-in-a-lifetime experience and is a story that I remember every Christmas.
Cheryl Ann Elfond (1973-74) traveled to Italy and Greece and spent Christmas Eve at the Vatican to hear the Pope say mass.
Tom Gross (1974-74) followed in Cheryl's footsteps a year later: "Christmas 1974 at the Vatican, listening to the Pope wish everyone a merry Christmas in about 37 different languages. "L'espressione inglese 'merry Christmas and a happy new year'". The first of two times I have done this. New Year's that year in Florence."
In the 1970s, Susan Henricksen Thompson (1975-76) spent several winter holidays in Europe. She recalls: "Christmas Eve in Denmark (1975 and 1979) with relatives of my Wisconsin neighbors was magical - the family took me to a country farm, and I slept in the upper bedroom with no heat, so hugged a warm hot water bottle thru the night. We sang Danish Christmas carols as we danced around their Christmas tree with numerous handmade paper ornaments- red and white like the Danish flag. I brought some home and still use them. The little country church was as quaint as they come, forever an adored memory." In 1977, she was "In Vienna, traveling with a friend. Church service at St. Stephens was emotional, as the filled sanctuary sang acapella in German. The roots of Silent Night were brought to reality that night for me." In 1978, she spent the holidays "In a nearby city of Mainz with my German friend Hannah's family. Most distinctive was the goose dinner on Christmas Day, followed by a refreshing Spaziergang in the snow in the woods. Her father knew every single tree type, every bush, and fern, and every animal foot track. Amazing!" Susan concludes with a sentiment many of us have felt thanks to our friends here in Europe: "So very grateful for all the warm, generous hospitality they all gave me."
Current Munich resident and newly minted German citizen Warren Knox (1980-81) "journeyed to K-Town [Kaiserslautern] to spend the holidays with my best friend's family, my friend was back in DC. His family took me in and loved me like one of their own, just as they had done a few years back when I had spent the summer with them following my friend's and my high school graduation. Endless extended-family meals, lots of parties, long hikes in the Pfälzer Wald, lots of Pfälzer wine, hung out a few times with local GIs too. I love the way they speak in the Pfalz. They don't pronounce the "f" in words beginning with "Pf", "Pfalz" is pronounced, "Palz". While there I got to hear my friend's somewhat senile grandmother tell her favorite joke [nearly every day!] about two Pälzer who went to Paris and were admiring the Eiffel Tower when one of them surprised the other by informing him that the tower was made of "Guscheise", in Pälzisch "Kuhscheiße" and "Gusseisen" ["Gußeisen" prior to the Rechtschreibreform] are pronounced identically.
As we U.S.-Americans know, the winter holiday season officially starts with Thanksgiving, and John Baumann (1998-99) shared this picture with us from the holiday when he was in StuStadt.
Thanks to holiday markets, travel, religious and spiritual experiences, good friends, and hospitality, JYMers have long found light and joy during the short, gray days of December.