Experience JYM
Why study abroad with Junior Year in Munich?
Students who study abroad in Germany with the Junior Year in Munich (JYM) Program become part of a unique, distinguished tradition that emerged as a response to the devastating consequences of two world wars. Not only did the junior year abroad movement of the 1920s begin in Germany with JYM, but with its re-opening by Wayne State University in 1953, JYM became the first junior year abroad program in postwar Germany to promote German-American friendship and understanding.
JYM today has gone far beyond its origins in the junior year abroad movement. Today, the program operates academic year and one-semester programs and offers internship experiences and incredible undergraduate research opportunities that were unimaginable when the program first started more than half a century ago. At the same time, JYM still insists on continuing the tradition of academically integrated study abroad a program model that offers maximum opportunity for the academic, cultural and social immersion of students studying abroad in Germany as German university students.
While on JYM, students experience Germany as only an insider can. Our insistence upon full immersion and university integration has stood the test of time and defines how JYM is different from many other study abroad programs in Germany today. And of course, it goes without saying that German is the official language of the program and all instruction is in German. Through our career outlook, we actively support students seeking job openings and career opportunities where German language proficiency and overseas experience are required or preferred.
Last but not least, we see ourselves as caretakers of the aspirations of JYM's founders who believed firmly that our program could indeed make a difference, not only in the lives of its students but also in transatlantic relations. To this end, we engage students with a series of conferences and events during their Munich experience.
Join us in Munich!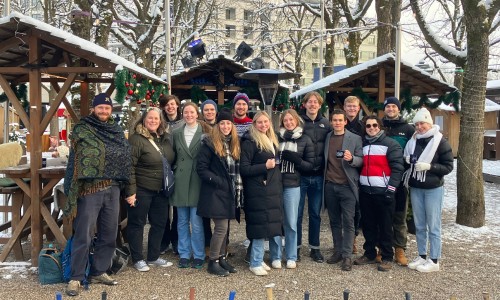 Studying in Munich provides students a unique, once-in-a-lifetime opportunity for personal growth, exploration and reflection and all within a foreign environment you'll learn to negotiate successfully in the German language.
The Munich experience
Studying abroad in Munich
Of all the places you can study in Germany, Munich offers the best of all worlds. Nowhere else in Germany do traditions and customs merge with all the excitement and opportunity of a modern big city that is home to Germany's top universities, businesses and industries and all less than an hour from the Alps!
Because of its safe, small-town feel, Munich is often referred to as a Millionendorf (a village with a million inhabitants) or even Italy's northernmost city. With its arts and culture offerings, enviable geographic location, as well as a high standard of living, Munich is continually voted the city in which Germans would most prefer to live.
And because of its unique combination of the old and the new existing side-by-side, Munich has been rated the "most livable city in the world" by Monocle, one of the "Ten Most Dynamic Cities" of the world by Newsweek, the number one Best University City by QS Best Student Cities in 2018 and the number one most sustainable, eco-city in Germany according to the 2019 World Atlas.
Founded by Henry the Lion in 1158 and ruled by the Wittelsbach dynasty for 700 years, a number of athletes, artists, writers, scientists and public intellectuals have called, or do call, Munich home.
Munich is known today for its numerous world-renowned museums, art galleries, symphony orchestras, theaters, film studios and opera house, as well as for its annual Oktoberfest and favorite soccer club, FC Bayern München. Six world-famous museums are just minutes walking distance from JYM!
Munich also boasts 14 universities (two are the top-ranked in all of Germany), 12 Max-Planck institutes, is home to the most modern engineering and medical research centers in the world and one of the largest solar parks in Europe.
Globally-known firms such as Allianz, BMW and Siemens are headquartered in Munich and Bill Gates has called Bavaria Europe's "high tech Mecca."
As if that alone weren't enough to explore, discover and enjoy, there's the Englischer Garten (the largest public urban park in the world), the lakes and mountains of Upper Bavaria and of course the Alps all at your doorstep.
Unlike any other city in Germany, only in Munich can you have it all.